Borderwars

May 19-21 in 2023!
New Location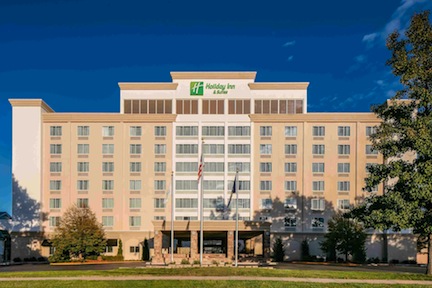 now at the lovely Holiday Inn Overland Park West
at 8787 Reeder St, Overland Park, KS 66214
Everyone who stays a night at the hotel,
get's a free membership in HAHMGS!
---

Borderwars is the yearly convention of the Heart of America Miniature Gaming Society.
A three day event for all kinds of historical, fantasy and Sci-Fi Miniature gaming
as well as card and board games. All are welcome, and it doesn't cost anything to visit!
---
DEALERS so far...
Terrain Station!
George Knapp
Good Old Weird Harold's Old Boardgames
Buck-a-Fig
Dead Man's Figs
Commedia Sans Arte
Put on a game at BW23 and get one days admission comped. Two games, get the weekend!
The hotel mostly has 6 foot tables, so if you MUST have 8 footers, you must give us advance notice.
Contact HAHMGS to put on a game, tournament or be a vendor.
FOOD!
The hotel restauarant is open 6-10am and 5-10pm. And has a full bar.
Plus you're right there on 87th street, restaurant row.
---
Games at Borderwars 2023
Contact HAHMGS to put on a game at the show.
Our theme for 2023: POST-Modern Warfare
We can't just keep calling everything after WWII the Modern period. it's almost 80 years long!
POST-Modern is hereby declared to be anything in the 21st century. And that covers a lot of ground.

All games and times subject to change. And how!
Games will Run Friday Evening, Saturday Morning, Afternoon and Evening & Sunday.
Games so far...
Game Date & Time TBA
Golan Heights 1967: The future belongs to those that hold the heights!
Ogre Miniatures
Crecy/Agincort with Raven Feast Large Battles rules.
Friday, May 19th
Doors open at 3pm
Epic Scale Napoleonic: 1500 plus figures representing six corps on a 12 foot table.
Two umpires and two player coaches for four to six players. The presentors of this game wish to thank Gators Games and Hobby in Leavenworth for providing them and everyone with wargame space the last nine years. Presented by the Fort Leavenworth Area Wargaming and Research Studies (FLAWGARS)
Battletech-The most popular miniatures game today!: Your LANCE is hired by a mining firm to escort ore shipments, "THE EASIEST JOB IN THE GALAXY". The firm is paying TOP dollar "up front" and will provide fully operational mechs for your lance. EASY MONEY, A SIMPLE ESCORT JOB & FULLY OPERATIONAL MECHS...for a mercenary, it just doesn't get any better than this!! Presented by Bob Roby
Mansfield 1864, or the duel in the Pine Barrens. Acw 25mm One Hour wargames rules 4 players
Gen. Banks has been tasked to take Shreveport and end Kirby Smithdom. Three armies of the Union are convergingand Banks has cut across country , leaving is naval assets behind to meet up later. This is Banks last chance to have success on what has been a lackluster army career for this political general. Gen Taylor is using interior lines to mass his limited means to defeat the Union armies in detail. Presented by Bill Boyle
Casks of Madeira, my deara...28mm skirmish game using TFL Sharpe Practice rules. Presented by Jim Harms

EUTAW SPRINGS-AWI 15mm It's 1781 and Cornwallis has left the Carolinas for the greener pastures of Virginia (Yorktown). Nathanael Greene sees an opportunity to eliminate the remaining British presence in the South. In September, bolstered by local militia, advances on the 2000 strong British encampment along the Santee River under the command of Colonel Alexander Stewart. Presented by Bob Vetter
Saturday, May 20th
Doors open at 8am
Morning
George Knapp's Hastings 1066 The fate of England shall be decided today!
(Game will be run multiple times, all day long)
WWII-the Great Escape: The German high command fear their army will be cut off by Allied forces. Thier orders are to fall back and regroup on the other side of the river. The Allies plan is to cut them off and destroy them! (Game will be continuing, all day long) Presented by Bob Roby
Casks of Madeira, my deara...28mm skirmish game using TFL Sharpe Practice rules. Presented by Jim Harms
Battle 4 Ukraine 2023: Post-Modern Warfare in 15mm Presented by Phil Devries & FLAWGARS
Battle of Byrums Ford: Johnny Reb III ACW action on a custom table. A must see. Presented by Gary Mills
Saturday Afternoon
The Great Northfield Raid - The James-Younger gang robs the First National Bank in Northfield Minnesota. The gang must make their getaway under a hail of bullets from local towns people. 4-6 players, Fast play Ruthless rules. Presented by Phil Hartman
WWI in the trenches: Kaiser Bill's veteran Germans are facing US Doughboys & Devil Dogs from the Belleau Wood Presented by Mike Walker & FLAWGARS
LEYTE GULF: naval battle-game with Carrier groups, battleships, cruisers, transports, subs, and both land-based air groups, "kamikazes" and carrier-based air groups. Presented by Harold Morgan
War of the Roses: 15mm one hour wargames 4 to 6 players
Henry the VI is being protected by his Lancastrian followers in a dug in position with a river to their back. The Yorkist army is moving to attack.Will the recent rain affect the bows? Blackest treachery decided the battle, but will the bribes be enough this time?. First use of artillery in Great Britain Presented by Bill Boyle
Irish War of Independence: the 1921 Fastnet Lighthouse raid Presented by Bill Ryan
Saturday Evening
The 6 Day War in the SINAI! using FOW Fate of A Nation rules. Presented by Arie Austin & FLAWGARS
Elizabethan Irish Wars 1590s 15mm One hour wargames 4 to 6 players
The Irish rebels have besieged Clontebret. but without artillery their only hope is to starve out the garrison. Your mission is to resupply the castle and return. thus the Irish will fade away. Presented by Bill Boyle
The Great Race or... Those Magnificent Martians in Their Superb Skyships!
The Battle of Gardner : The Grosdeck Gang plans to rob the Carter Exchange. Old West action on a purty sweet lookin table.
Sunday, May 21st
Doors open at 10am
AXIS & ALLIES GLOBAL 1942
CHECK BACK FOR DATES AND TIMES AS GAMES ARE UPDATED
BORDERWARS 2023 ADMISSION:
$5.00 OFF WITH STUDENT/MILITARY I.D.

HMGS/RPGKC MEMBERS:

1-Day Pass - $20.00
Weekend Pass - $30.00
HAHMGS Member's Kids under 16 - get in free!

NON MEMBERS:

1-Day Pass - $25.00
Weekend Pass - $40.00
Kids under 16 - $5/10 1-day/weekend
HMGS Membership -$15. Get the HMGS rate at HMGS (and other) shows nationwide!

Everyone who Reserves thier hotel room thru the Toy Sojer link here, gets a free membership in HAHMGS!